Production and Supplies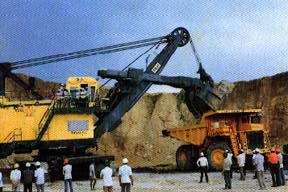 REFORMS & ACHIEVEMENTS OF MINISTRY OF COAL SINCE 2014
COAL PRODUCTION
Through sustained programme of investment and greater thrust on application of modern technologies, it has been possible to raise the All India production of coal at 778.21 million tonnes in 2021-22. The all India Production of coal during 2022-23 was 893.08 MT  with a positive growth of 14.76%.
Coal India Limited (CIL) and its subsidiaries accounted for 622.63 MT during 2021-22 as compared to a production of 596.22 MT in 2020-21 showing a positive growth of 4.4%. Coal production of CIL during 2022-23 was 703.21 MT with a positive growth of 12.94%.
Singareni Collieries Company Limited (SCCL) is the main source for supply of coal to the southern region. The company produced 65.02 million tonnes of coal during 2021-22 as against 50.58 MT during the same period of previous year. SCCL production of coal during 2022-23 was 67.14 MT with a positive growth of 3.26%. Small quantities of coal are also produced by TISCO, IISCO, DVC and others.
2023-2024
COAL PRODUCTION AND OFFTAKE APRIL-MAY- 2023-2024 (IN MT)
 
Production*
Offtake/Dispatch*
Company
Target
Ach. (Prov)
Actual During Cores
period of previous year
Growth (%)
Target
Ach. (Prov.)
Actual During Cores
period of previous year
Growth (%)
CIL
780.00
117.51
108.19
8.61
780.00
126.10
118.74
6.20
SCCL
70.00
11.45
11.36
0.73
70.00
12.32
11.87
3.73
Captive & Others
162.00
20.32
18.86
7.70
162.00
24.32
19.33
25.83
Total
1012.00
149.27
138.42
7.84
1012.00
162.73
149.94
8.53
Source: CCO 
Note: Production and Offtake of CIL is including Gare Palma IV/1 and IV 2&3 and production of captive is excluding these blocks.
COAL DISTRIBUTION AND MARKETING
The Marketing Division of CIL coordinates marketing activities for all its subsidiaries. CIL has set up Regional Sales Offices and Sub-Sales Offices at selected places in the country to cater to the needs of the consuming sectors in various regions.
IMPORT OF COAL
As per the present Import policy, coal can be freely imported (under Open General Licence) by the consumers themselves considering their needs based on their commercial prudence.
Coking Coal is being imported by Steel Authority of India Limited (SAIL) and other Steel manufacturing units mainly to bridge the gap between the requirement and indigenous availability and to improve the quality. Coal based power plants, cement plants, captive power plants, sponge iron plants, industrial consumers and coal traders are importing non-coking coal. Coke is imported mainly by Pig-Iron manufacturers and Iron & Steel sector consumers using mini-blast furnace.
Details of import of coal and products i.e. coke during the last four years including the current year is as under:
(Million tonnes)
Coal
2018-19
2019-20
2020-21
2021-22
2022-23*
Coking Coal
51.84
51.83
51.20
57.16
56.05
Non-Coking Coal
183.51
196.70
164.05
151.77
181.62
Total Coal Import
234.35
248.53
215.25
208.93
237.67
Coke
4.93
2.88
2.46
2.48
3.63
*Import upto March, 2023  (Source:-DGCI&S)
Coal Production and Offtake data (last 10 years).
Coking Coal washery performance during last Five years
Despatches of Coal by type during last ten years
Production of coal & Lignite for last ten years
Production of Coking Coal during last ten years
Production of Non-Coking coal during last ten years
Production of Raw Coal from Opencast & Under-ground mines during last ten years